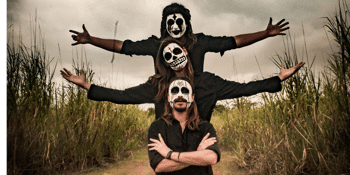 Clancy's Fish Pub- Fremantle (Fremantle, WA)
Sunday, 8 March 2020 3:00 pm
Kallidad is thrilled to return to Fremantle for a family-friendly all ages show. Children under 18 are warmly invited, but they must be accompanied by a parent or guardian.
Since last visiting Western Australia, Kallidad has been all around the world, including a career defining performance at the world famous Montreux Jazz Festival in Switzerland in 2019.
The group's new music sees them sharper than ever with the "traditional" Kallidad sound of two ferocious Spanish guitars and incredibly complex cajon rhythms, but the music is bolstered and accentuated by the occasional use of electric and bass guitar, plus drum kit.
Kallidad's infamous white face paint lends the group an aura of mystery, but long time fans will know that the three amigos have cultivated a family vibe to their audience- where people of all ages from all places come together, for the healing power of the music and the good spirit and good cheer of the band and the audience.
Kallidad has enjoyed several sold out shows at Clancy's Fish Pub Fremantle and this show promises to be the biggest of them all!
"