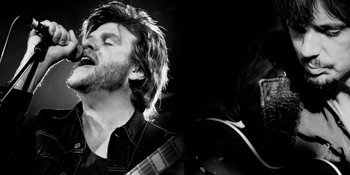 Code One Entertainment presents
Tex Perkins & Matt Walker + Jerikye Williams and Michael Simic
with special guests
Royal Hotel Queanbeyan (RHQ) (Queanbeyan, NSW)
Sunday, 26 January 2020 6:00 PM

Dinner & Show packages include entry and a two course meal (Entrée & Main), alternate serve.
*Shared table seating: 1, 2 OR 3 people ticket holders are seated together*
DINNER & SHOW 6PM | GA 745PM
Please note: this show will have limited seating and be standing only, dinner&show tables cannot be joined together on the evening and dinner will be allocated in multiple rooms separate to the show. Each below purchase option will allow you to buy one whole table. Tables may be place together to suit numbers. If you require more than one table per purchase please call our customer service team on 1300 762 545.
Special Needs Booking Information
For special needs bookings (including specific dietary requirements) please contact the venue directly on (02) 6297 1444.
Online Ticket Availability
Dinner & Show sales close at 12pm on the day prior to the event.
Show Only sales are available up until 4pm the day of the event. Door Sales are subject to availability
Tex Perkins has played a key role in Australian music.
It's understandably difficult to pull together a coherent picture of a man whose career has taken in everything from the groundbreaking experimental punktonica of Sydney mid-80s noiseniks Thug to the lilting, dark country of his recent material with the Dark Horses.
From the hard edged pub rock of the Beasts Of Bourbon's, a snarling slice of filthy pub rock to the evocative soundscapes of The Cruel Sea, whose extraordinary 1991 single 'This Is Not The Way Home' placed Perkins' world-weary growl in a new musical context and heralded the emergence of an entirely original yet archetypically Australian sound.
Then there's the Tex, Don & Charlie albums, which saw Perkins joining forces with the legendary Don Walker, Cold Chisel's pianist and master songwriter and son of the Clarence Valley, and Charlie Owen, previously Australia's best kept musical secret.
Now is Tex's exciting new (and long over due) collaboration with Matt Walker (a great artist in his own right) for duo shows. It's a blues swamp-groove kinda thing that's a little reminiscent of some of the things in Tex's back catalogue. Many new originals inhabit the setlist, but see them now while they still have to flesh out the set with a few Cruel Sea covers!
"Tex has the swagger, presence and indomitable attitude that comes from years of fronting some of Australia's most intense and spirited rock'n'roll bands. His take-no-prisoners approach to performance comes with the sensibility of an artist committed to the subtle (and often unsubtle) nuances of his craft. Throw in an astonishing voice full of power and depth, mix it with a dry and sardonic sense of humour and what emerges is the reason there is only one Tex Perkins". (Stuart Coupe)