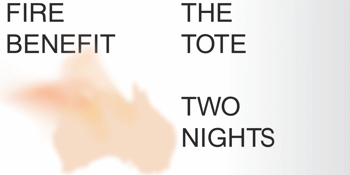 Bushfire Benefit - Saturday
with Total Control, HTRK, Alice Skye, Civic, Disco Junk & The Snakes with DJs Haz & Cass
The Tote - Band Room (Collingwood, VIC)
Saturday, 1 February 2020 6:00 pm
Bushfire Benefit at The Tote - Saturday

Saturday 1 February
6:00pm

Total Control
HTRK
Alice Skye
Civic
Disco Junk
The Snakes
DJs Haz & Cass

Funds raised will be going to the First Nations Fire Relief Fund, Victorian Bushfire Disaster Fund, RFS, Wildlife Victoria, WIRES, SA Country Fire Authority, Tasmanian Fire Authority. Oztix and The Tote are donating all booking fees, and The Tote will be donating proceeds from bar sales on the night.

Tickets at $50+bf or $60+bf (pay what you feel) for each night
$40 concession passes available both nights.
First Nations punters please contact the promoters or the venue to arrange entry.